Posted on December 2nd, 2014 at 4:14 AM by
happyguestslodge.co.uk
Local hotels near Warrington, such as the Happy Guests Lodge, exist for one main reason: to provide guests "a home far from home" where everything they need is taken care of. To this end, such hotels offer a plethora of amenities to satisfy these demands. As an article on the online hospitality resource HotelManager.net notes:
In the world of travel, guests want to be able to feel like they're coming home when they go to their hotel room, looking for all of the creature comforts that they thought they'd just leave behind in their everyday life. But, when it comes down to it, no one wants to come to a room that's stale and uninviting with under-par amenities and the inability to connect to the outside world.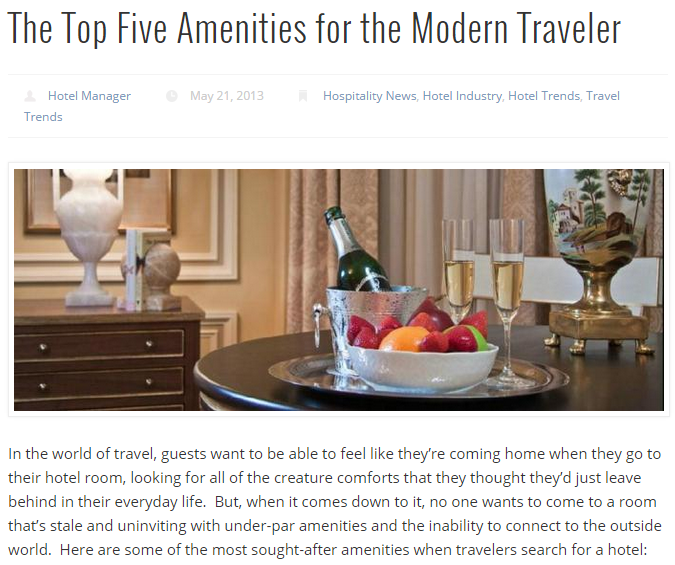 Here are a few of the most sought-after amenities for the modern traveller:
Free breakfast – Complimentary breakfast is constantly in a tight race with free Wi-Fi as the most popular hotel amenity. According to a survey conducted by Hotels.com however, free breakfast took the title this year. Speaking to Yahoo! Travel writer Bekah Wright, travel expert Taylor Cole gives a simple explanation: eating three meals a day can add a lot to the overall travel cost, and the option of eating the first meal for free saves a lot of trouble and money.
Free Wi-Fi – Speaking this time to SuccessfulMeetings.com contributor Matt Alderton, Taylor Cole remarks that tech-savvy travellers are essentially expecting to have seamless wireless web access upon their arrival at the hotel. Most of these people use handheld electronic devices to access the Web for just about anything—checking business emails, keeping in touch with friends and and even ordering meals in-room. For this reason, free Wi-Fi is now considered a standard among the best hotels in Widnes and elsewhere.
In-room technology – In-room appliances like tea and coffee makers and even video game consoles and iPads are also desired by guests. Standard offerings may now include air conditioning and HD TVs.
Simple things – Virtually any hotel guest would love a simple helping of bottled water. It is one of the most-appreciated additions amongst all other amenities. Apart from that, conveniently placed power outlets, safes, bathrobes, and power adapters for electronic devices are also valued.
General amenities – The last but not least-valued amenities include secure parking spaces, access to restaurants and fitness centres, work areas, vending machines, and spacious lobbies.
Travellers who are making their way to the Warrington, Widnes or Runcorn can count on a top-rated hotel/bed-and-breakfast like Happy Guests Lodge to offer great value and superb services.
(Source: The Top Five Amenities for the Modern Traveller, HotelManager.net, May 21, 2013)