Posted on December 3rd, 2014 at 4:21 AM by
happyguestslodge.co.uk
Marriage counsellors have long extolled the value of unhurried time together for husbands and wives without the nuisances of work, running a household and raising the children. Time alone together allows spouses to rekindle the romance, communication and intimacy in their relationship.
Two of the biggest obstacles to achieving this however are the costs involved and finding the right getaway. An article in women's online resource She Knows offers a brilliant idea: a bed and breakfast weekend.
Don't think too much about where to go on your couple-only getaway. Instead, concentrate on where to stay. Regardless of whether you head out to the coast, up to the mountains or just down the street, one of the most romantic places to stay is in a bed-and-breakfast, otherwise known as a B & B.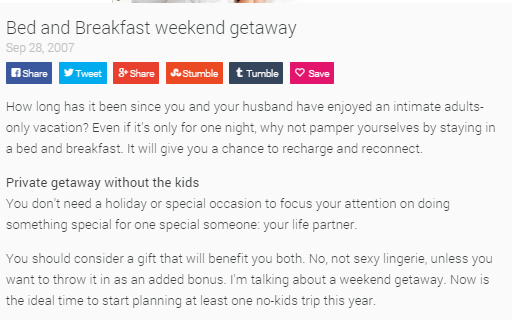 Bed and breakfasts offer convenience. It always seems easier to make a booking in one because its operations are generally smaller than large hotels. The small size and limited number of guests in such a place also make for more intimate and less stressful surroundings; perfect for couples to have some quiet time together.
Furthermore, if you spend your B&B weekend in a place like Warrington or Runcorn in Cheshire, you get the added benefit of being somewhere that offers much in terms of leisure and entertainment.
Warrington, for example, offers a wide array of parks and gardens that make long, quiet walks together an experience to remember. The place also boasts picturesque villages, streets lined with artworks, and fun pubs. A Warrington bed and breakfast like Happy Guests Lodge offer their customers spacious rooms with all the amenities you will need, such as a TV, free Wi-Fi, and breakfast.
Runcorn is another interesting place to spend a weekend with your spouse. It hosts the historic Norton Priory Museum and Garden, which will transport you to medieval England when monks ruled from the cloisters of their abbeys. The Catalyst Science Discovery Centre, on the other hand, will not only bring you back to the present time but take you to the future as well; an experience that you and your spouse will surely relish together. A charming bed and breakfast near Runcorn will be a convenient and peaceful respite after a day in town.
A much needed couple's getaway does not have to be expensive or elaborately planned. A bed and breakfast weekend offers couples the chance to recharge their batteries without the stress that comes with a long vacation.
(Source: Bed and Breakfast weekend getaway, She Knows)