Posted on April 22nd, 2015 at 2:58 AM by
happyguestslodge.co.uk
Has the stress and the workload in your office caused you to miss out on some valuable time with your significant other? If so, taking him or her to a relaxing bed and breakfast near Warrington for the weekend can be just the thing you need to unwind and spend time with the most important person in your life.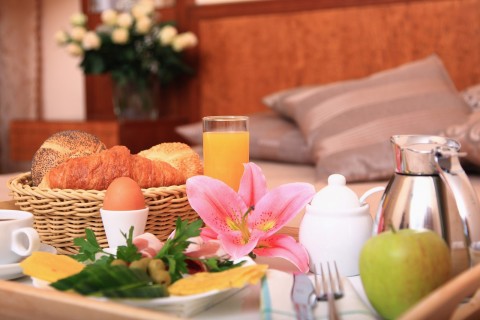 Of course, choosing any old bed and breakfast simply won't do. You'll have to take the time to make sure that the place you choose can help you unwind and relax. At the same time, you want to choose a bed and breakfast that has a great reputation for being accommodating to guests. Other factors you should take into consideration include:
Breakfast in Bed
One of the more romantic gestures you can do for your partner would be to prepare breakfast in bed. Since you probably don't want to cook while you are on vacation, choose a hotel that provides complimentary room service for breakfast. This way, you and your loved one can spend the morning together instead of having to eat in the hotel's breakfast room.
Nearby Activities
Naturally, staying in bed all day is an option you can choose, but that gets old rather quickly if you're staying at the bed and breakfast for more than a few days. In such cases, be sure you look at nearby activities and attractions. In particular, look for romantic activities you can do together such as horse riding, boat rides or something as simple as walking in the countryside. You should also take the time to look for nearby attractions that you know your partner will appreciate.
Fantastic Dinner for Two
Just because it's called a "bed and breakfast" doesn't mean that all you'll be having during your stay is breakfast. Choose a place that is near several restaurants that serve exceptional food in a relaxed and romantic atmosphere. Fortunately, a popular bed and breakfast near Northwich like Happy Guests Lodge has a number of excellent restaurants nearby. In fact Happy guests Lodge can even provide you with special deals in these local restaurants.
Sources:
8 Romantic Breakfast In Bed Ideas That Will Save You From Sleeping On the Couch; MadeMan.com
Tips for Visiting a Romantic Bed and Breakfast, About.com