Posted on August 21st, 2014 at 2:31 AM by
happyguestslodge.co.uk
Sharing experiences and trying new things together can help keep family relationships healthy. Yet can you still afford to take your family on a vacation? It may be more challenging now, amidst reports of price hikes introduced by many businesses, including leisure establishments.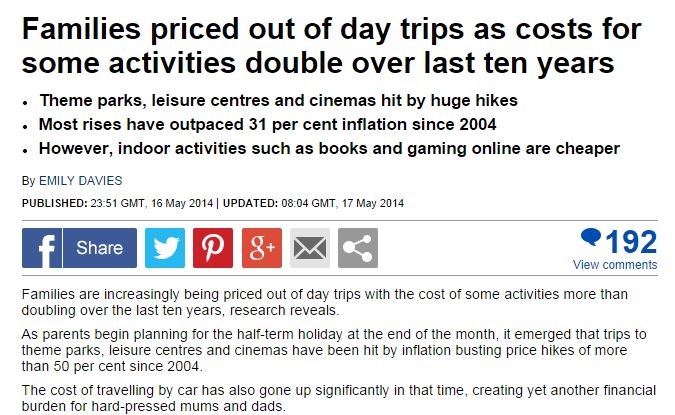 Indeed, a Halifax survey reveals that family day trips have become more expensive over the years. The Daily Mail's Emily Davies has this report.

Families are increasingly being priced out of day trips with the cost of some activities more than doubling over the last ten years, research reveals.
As parents begin planning for the half-term holiday at the end of the month, it emerged that trips to theme parks, leisure centres and cinemas have been hit by inflation busting price hikes of more than 50 per cent since 2004.
The cost of travelling by car has also gone up significantly in that time, creating yet another financial burden for hard-pressed mums and dads.

Despite such obstacles, your family shouldn't give up on holidays just yet. Fortunately, you don't need to spend a lot, especially if you visit the culturally-rich county of Cheshire.

Affordable hotels in Warrington will guarantee a comfortable stay for your family without creating a huge dent in your travel budget. With your accommodation worries set aside, you can enjoy the many activities the county of Cheshire has to offer. There are a multitude of leisure activities to choose from. Here are some things you might want to try:

Getting in touch with the past
Cheshire has several tourist attractions that highlight the region's colourful heritage. Get transported back to the years of the Cold War through the Hack Green Secret Nuclear Bunker in Nantwich; or journey through Roman-era Cheshire with bespoke tours from Grosvenor Museum. Discover Medieval England by exploring the Old Hall of Tatton Park in Knutsford, or the stunning Beeston Castle in Taporley.

These tourist spots have something for everyone. In addition to galleries and displays of artefacts most of these establishments also have playgrounds or even rides that energetic kids are sure to enjoy. Explore the many dining options and rest areas where you can simply relax and marvel at your surroundings.

Make the most of your time in Cheshire by staying at cheap hotels in the Warrington area which are conveniently located close to these exciting tourist spots. A cosy bed and breakfast like Happy Guests Lodge offers superb facilities such as free Wi-fi, spacious rooms, and large beds. This makes it possible to enjoy a fun-filled vacation without breaking the bank!

(Source: Families priced out of day trips as costs for some activities double over last ten years, Daily Mail, May 16, 2014)