Posted on August 22nd, 2014 at 1:28 AM by
happyguestslodge.co.uk
Great Britain is a favourite tourist spot for many travellers. The country's rich history and diversity make it an ideal destination for people who want a vacation and experience a multi-culture at the same time. The country offers tourists many historical places to visit, arts and entertainment. Even the popular Royal Family attract visitors.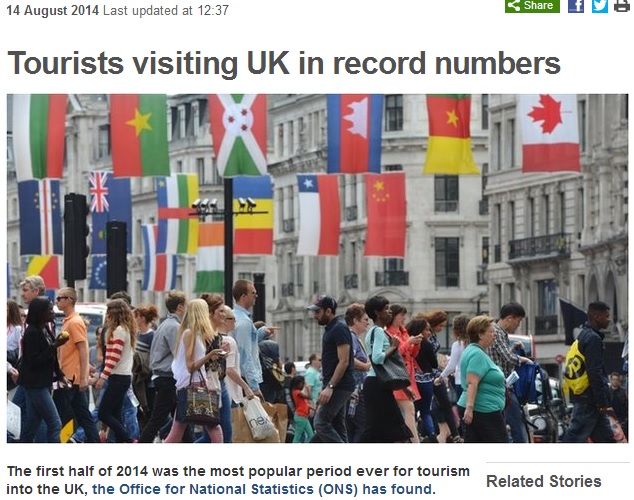 With all its diversity, history and culture it is not a surprise that Britain attracts huge numbers of tourists, as reported by BBC:
Tourists made 16.41 million trips to the UK between January and June, an 8% rise on the same period in 2013.
Spending by foreign residents in the UK has reached £8.92bn so far this year.
[…]
David Edwards, head of research and forecasting at the UK's tourist agency VisitBritain, said: "Tourism is an essential part of the wider success of our economy and these first six months have set us up for what could be another record year for inbound tourism.
"It's also hugely positive to see growth both from our high volume European markets and also emerging markets across Asia and Latin America."
The recent tourist figures are a reason for jubilation for the Government, businesses, and the British people in general but can the country's hospitality industry accommodate the increasing numbers of visiting tourists?
There is certainly no cause for concern in major destinations like London and Birmingham. However, U.K. visitors who want to fully experience the country's culture would also need to visit counties such as Cheshire in the North West of England. There is an abundance of heritage visible in Cheshire as well as one or two football heroes!
Fortunately, established hotels near Warrington such as Happy Guests Lodge, offer tourists a cosy home from home. These hotels have rooms and suites where backpackers, families, business people and tourists can all take advantage of the great facilities and value.
Also, reputable hotels in Northwich offer amenities like spacious rooms, large comfortable beds, access to Wi-Fi, and helpful staff that are ready to tend to every guest's needs. The rates also will surely please the budget-conscious traveller. These comfortable establishments provide U.K. visitors with a great alternative to expensive hotels without sacrificing quality or comfort.
(Source: Tourists visiting UK in record numbers, BBC, August 14, 2014)