Posted on August 12th, 2014 at 6:53 AM by
happyguestslodge.co.uk
Now that August is here, many people are raring to go on one last summer trip before the cold of autumn and winter sets in. With so many tourist attractions in the U.K. though, you might be wondering where to go.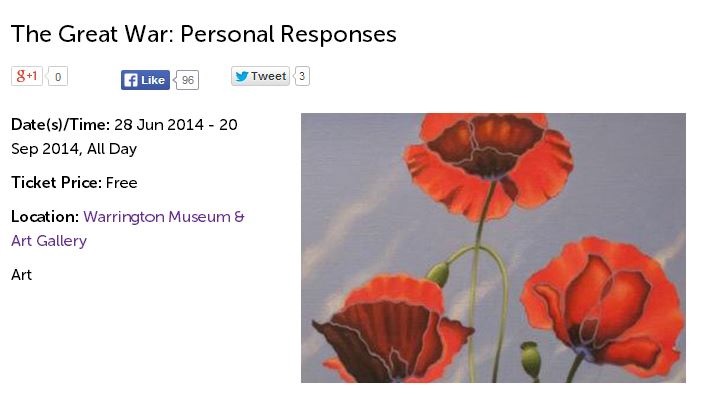 If you're fond of art and history, consider visiting Warrington in Cheshire, where an exhibit entitled "The Great War: Personal Responses" will be shown at the Warrington Museum & Art Gallery until September. 'Culture Warrington's' official website provides more details on the event:
Seen through the filter of collective recollection, documentary accounts and family histories, this exhibition represents the personal responses of the Cheshire Artists' Network to World War One.
The participating artists have worked with the relatives and loved ones of people affected by the conflict. They hope that by preserving their memories in this exhibition they can pay their respects to those who paid the price for our freedom.
Cheshire Artists' Network is an organisation of over 50 professional visual artists who live and work in the county.
Exhibiting artists: Sandra Christie, Tony Evans, Sam Houston, Jo Jenkins, Anne Johnson, Derek Johnson, Julia Midgley, Julie Scott, Francis Seba-Smith and Adrian Sumner.
Of course art exhibits aren't the only thing you can enjoy in the Warrington area. Travel information about Cheshire and its surrounding areas, often readily offered by friendly staff of the more popular hotels near Warrington, indicate that there are also many nearby towns and cities that have enjoyable attractions, such as:
Chester – The Chester Cathedral
The Chester Cathedral was originally a Benedictine abbey, which in turn was built over a Saxon church dedicated to St. Werburgh. The admission fee includes a 45-minute audio tour of the centuries-old structure.
Widnes – The Catalyst
If you're a science buff, The Catalyst in Widnes will definitely be up your alley. This unique museum is devoted to chemistry, and is a popular destination not just for field trips but for family outings as well.
Manchester – Coronation Street Tour
Are you a big fan of the hit series Coronation Street? Then head over to nearby Media City and see the famous cobblestones of the show via a guided studio tour.
With so many must-see attractions, you will need more than a day to explore. You are likely to need some place to spend a night or two, such as one of the bed and breakfast hotels in the Widnes, Warrington or Chester areas. Fortunately, the accommodation offered by the likes of Happy Guests Lodge provides spacious rooms, free Wi-Fi, flat screen TVs, comfortable beds and super furnishings at a much more affordable rate than chain hotels. As such, you can spend more of your money on buying the things you enjoy and of course sampling even more local delicacies!
(Source: The Great War: Personal Responses, CultureWarrington.org)