Posted on August 23rd, 2014 at 1:36 AM by
happyguestslodge.co.uk
Short national holidays like the recent bank holiday present opportunities for people to take a little time off to relax, bond with family and friends, and do a little traveling. The Press Association, in an article for the Sunday Post, reports on how millions of Britons planned to leave the country for their holiday weekend: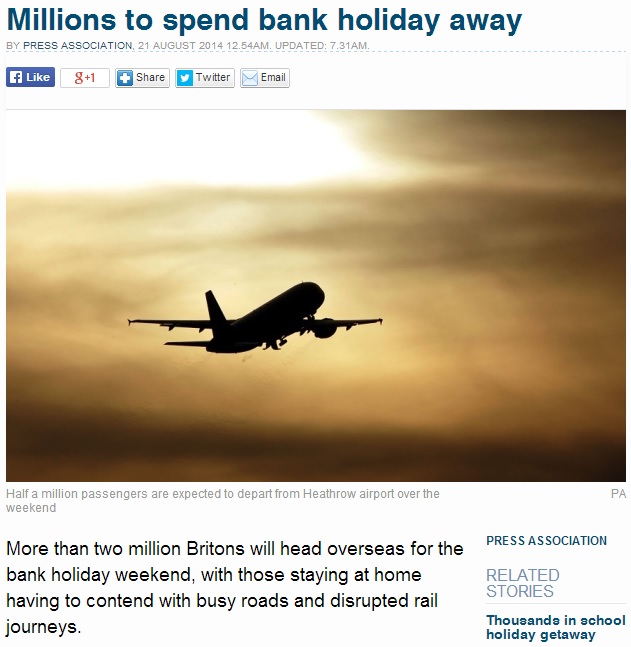 More than two million Britons will head overseas for the bank holiday weekend, with those staying at home having to contend with busy roads and disrupted rail journeys.
While some are taking to the air to travel to Mediterranean hotspots, anyone getting the car out in the UK will have to compete for road space with an estimated nine million other vehicles.
On the railways, engineering work included major work at London Bridge station and at Watford in Hertfordshire.
The estimate of more than two million going abroad comes from the travel organisation Abta, which said that Spain and its islands as well Greece, Turkey and Tunisia were among the most-popular destinations.

Not everyone can go on international travels during these short breaks, however. There are those who prefer not to spend on airfare and accommodation in places like France, Spain and Portugal. Aside from the distance, travellers will also face the hassle of planning for their trips weeks or months ahead instead of spontaneously taking the opportunity to travel anywhere within the UK.
A more practical and less stressful alternative is to become domestic tourists and visit the many beautiful and unspoilt areas of the United Kingdom. UK travellers are spoilt for choice but one of the country's most diverse counties is Cheshire. Beautiful countryside, a great transport network, country houses, theme parks, museums, sports venues and fine dining are all widely available. Book your stay at a cosy bed and breakfast in Warrington like Happy Guests Lodge and you are guaranteed an exceptional break .
Comfy hotel alternatives, such as a Northwich bed and breakfast, know how to make holiday stays special by providing guests with spacious rooms, dependable staff, and excellent customer service. Extra amenities like free Wi-Fi and free use of a gym will also enhance anyone's holiday experience. Additionally, these B&B's are located very close to areas of interest, giving guests the chance to make the most out of their short vacations.
When holidays come, people should consider touring their own country. There are a lot of wnderful sights to see in the UK and its many bed and breakfasts are ever ready to accommodate.
(Source: Millions to spend bank holiday away, Press Association, August 21, 2014)