Posted on September 26th, 2014 at 9:02 AM by
happyguestslodge.co.uk
When a country wants to boost its tourism, opening doors to more than a billion potential visitors from one of the largest countries in the world may be the solution. BBC News reports on how the British government plans to woo Chinese nationals into visiting the U.K. in droves. This has resulted in reputable hotels in Warrington and the rest of the country considering how to prepare.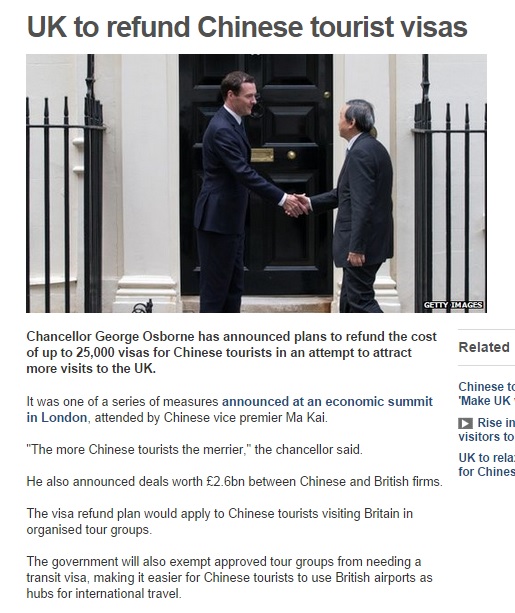 Chancellor George Osborne has announced plans to refund the cost of up to 25,000 visas for Chinese tourists in an attempt to attract more visits to the UK.
It was one of a series of measures announced at an economic summit in London, attended by Chinese vice premier Ma Kai.
Rolling out the red carpet
To sweeten the tourism pie even more, the British government has also made flying to Great Britain a more convenient experience with direct flights to and from China. Less transit stops would be another incentive for Chinese visitors to visit the U.K.
The government will also exempt approved tour groups from needing a transit visa, making it easier for Chinese tourists to use British airports as hubs for international travel.
"I think that will strengthen British aviation, strengthen British airports as hubs for direct routes to China, so that people use British airports as a jumping off point for trips around Europe," Mr Osborne said.
"Of course one of the really exciting things we see all around is more and more Chinese tourists coming to the United Kingdom and they are very, very welcome," he added.

Friendlier Ties
Building a stronger relationship with China for political and economic reasons has long been one of the U.K.'s top priorities. China has begun exerting its presence on the global stage just as America has done for decades. In the interest of peace and trade opportunities, analysts believe tourism will work wonders for both nations.
Why not everyone?
Some have wondered why the government has not opted to relax Visa rules for all nationalities. The obvious reason is spending power. A Chinese tourist will spend an average of £1,600 while visiting the U.K., and there are approximately 97 million Chinese nationals flying on holiday to an international destination each year. That translates into a lot of income for shops, restaurants, and established hotels in Runcorn like the Happy Guests Lodge should just half that number decide to visit the country.
(Article Excerpt and Image from "UK to refund Chinese tourist visas", 12 September 2014, BBC News Business)