Posted on July 2nd, 2014 at 2:44 AM by
happyguestslodge.co.uk
Many lines of work can require travelling long distances to interact with clients and discover opportunities. An article in the Warrington Guardian reveals that Warrington is a hive of business activity.
"It may not officially be a city, but Warrington has again beaten its bigger rivals to appear in an influential report highlighting its business.The Centre for Cities report places the town in its Top 10 cities for small and medium sized business success.It comes six months after the same organisation placed Warrington in the Top 10 business locations overall.Warrington is classified as a 'city' in the report by population (207,000).It was awarded top place for Business in the North West category in the same report.The top five locations are Cambridge, Edinburgh, Brighton, Swindon and Derby."
This recognition is another accolade for the Cheshire residents. The county is already well known for its scenic countryside, high quality of life and lively social scene. If you are a business person who needs quality accommodation while scouting for new opportunities in Cheshire, then reputable hotels in Warrington like the Happy Guests Lodge are ideal for business people.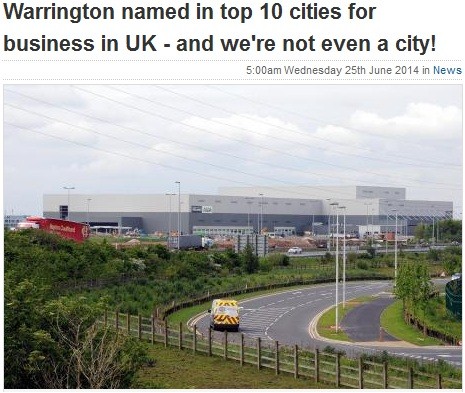 A closer look at the report will convince you of the benefits of starting or relocating a business to Warrington. The town placed third when analysing the number of new jobs created within every expanding small or medium enterprise (SME). There was an average of 8 jobs created for each SME in Warrington, just behind Aberdeen (8.8) and Peterborough (9.2). Warrington also landed top marks in the comparison of cities with high-growth SMEs, at 15% of all businesses established between 2010 and 2013. The location also finished tenth among cities whose SMEs do well in selling quality products through innovative marketing strategies.
If you're in town for a meeting and want to stay in quality, great value accommodation then Premier hotels in Runcorn like Happy Guests Lodge have all that the business traveller could need: free WiFi access, room service, free gym passes and a beautiful countryside location close to a great motorway network. Who could ask for more?
Even the best-performing business professional must rest from time to time. Hotels with unique amenities and friendly customer service are just what you need.
(Source: Warrington named in top 10 cities for business in UK – and we're not even a city! Warrington Guardian, 25 June 2014)