Posted on April 16th, 2014 at 2:09 AM by
happyguestslodge.co.uk
Oxford Economics released a major travel industry study suggesting that China may overtake the U.S. as the largest source of outbound travelers in the world in 2014. This article published by The Economist, both in their print and online edition, tells us how the new breed of Chinese tourists are changing the landscape of the global tourism industry.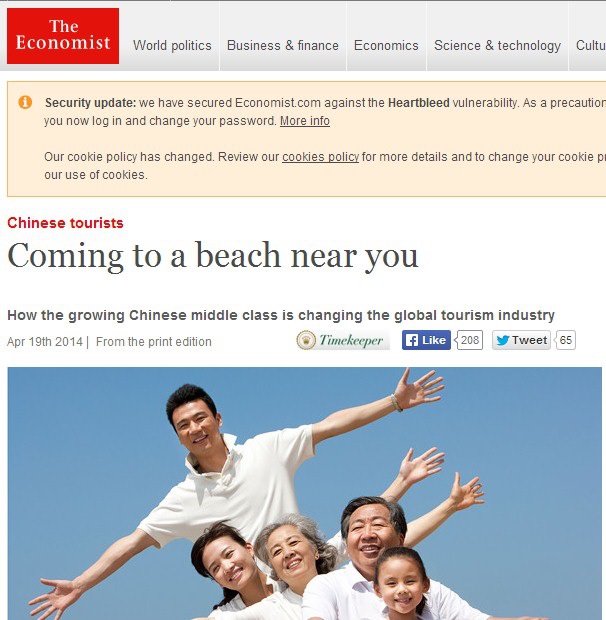 Nearly one in ten international tourists worldwide is now Chinese, with 97.3m outward-bound journeys from the country last year, of which around half were for leisure. Chinese tourists also spend the most in total ($129 billion in 2013, followed by Americans at $86 billion) and per tax-free transaction ($1,130 compared with $494 by Russians). More than 80% say that shopping is vital to their plans, compared with 56% of Middle Eastern tourists and 48% of Russians. They are expected to buy more luxury goods next year while abroad than tourists from all other countries combined.
With the current trend, China's share of global outbound travel expenditure of just 1% in 2005 is expected to increase to 20% by year 2023. Not surprisingly, the Government has launched the China Welcome Campaign and unveiled a new visa system to make it easier for Chinese tourists to visit the U.K.
All North West businesses trading in hosptality, especially hotels near Warrington, can take advantage of this to capture this emerging market.
Here are three simple tips to attract Chinese tourists:
1. Have a Mandarin version of the hotel's website. As most Chinese tourists now belong to the backpacking class, checking out the Internet when looking up a place to stay during their trips is the norm. Though most of China's middle class can communicate in English, having a Chinese version of the hotel's website could be highly advantageous since it shows that the hotel is dedicated to serving Chinese clients.
2. Make Chinese-essential amenities available. Though globetrotters, the Chinese look for amenities that are essential and a part of their cultural heritage when staying at hotels in foreign countries. Hotels must have amenities like wi-fi available as well as an 'in room' kettle for tea-making available. Chinese TV programs and translated tourism guides would prove very popular
3. Keep an impeccable delivery of service. Chinese visitors tend to have a business-like approach to service staff. Requests and service expectations are very high. For example meals should be delivered within 10 minutes and room keys within 5 minutes of check-in. It would also be great if the hotel could have a Mandarin-speaker as part of their staff.
The growth potential for the hospitality industry is vast because of the Chinese market. Being prepared for this new trend will benefit hotels in Widnes like Happy Guests Lodge with an increased competitive edge, better recognition from Chinese tourists and, subsequently, more business from China.
(Source: Chinese tourists coming to a beach near you: How the growing Chinese middle class is chaging the global tourism industry, The Economist, April 19, 2014)