Posted on May 21st, 2014 at 2:29 AM by
happyguestslodge.co.uk
A few years ago, free Wi-Fi reigned as the most popular amenity among most thriving hotels in Warrington and all other locales around the world. However, it's not the case this year. A recent survey conducted by the online hotel resource Hotel.com revealed a significant change, as underscored in this excerpt from Jennifer Polland's article on the Business Insider.
"Hotels.com surveyed thousands of travellers, and found out that the most important hotel amenity travellers want is complimentary breakfast. A hotel restaurant was ranked as the second-most important amenity, showing that there is a growing emphasis on hotel dining."
Free Wi-Fi once occupied the top spot because of the predominance of more tech-savvy guests, but now it sits at a modest third place – not a far cry from its previous position, but definitely showing a considerable change in accommodation preference among guests.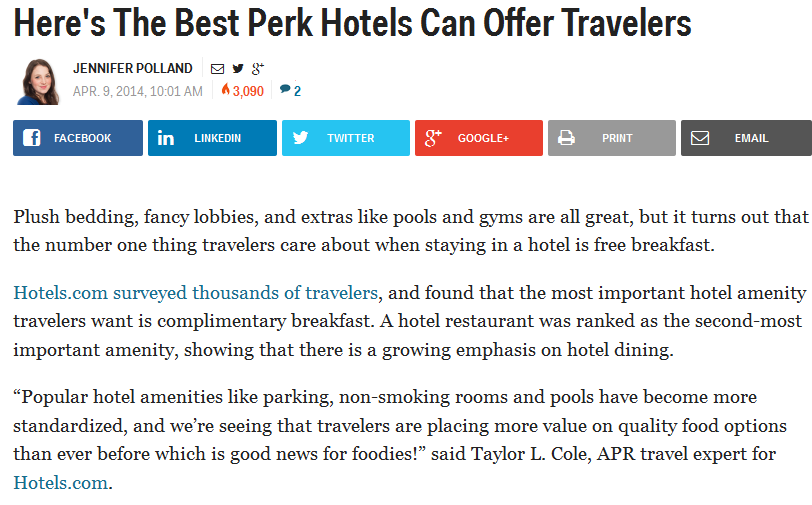 Writing on his blog TravelCommons.com, avid traveller Mark Peacock agrees. While smartphones, tablets, laptops, and other Wi-Fi devices are prevalent nowadays, Peacock notes that free Wi-Fi is sometimes a hit-and-miss thing. Connection speed varies greatly – reasonably fast at 1pm when practically no one's in the hotel, and frustratingly sluggish at 9pm when everyone's tucked in. This can be troublesome especially for worker-travellers, who require a stable connection to perform many business related activities online from emails to video conferences with colleagues.
Peacock also pointed out that taking breakfast is essential for many reasons. Scientists will often argue that breakfast is the day's most important meal and there is a heavy weight of proof to support this. Some people are prone to skip breakfast in favour of a lie-in but doing so isn't sensible. For instance, it is proven that skipping breakfast is not recommended if you're trying to manage your weight. A 2003 study published in the Journal of Epidemiology pointed out a fairly simple premise: eating earlier in the day prevents anyone from overeating later in the day. Eating breakfast regulates the blood concentration of insulin, a hormone that encourages fat cells to store fatty acids.
Fortunately, a complimentary breakfast is something that popular cheap hotels in Warrington like Happy Guests Lodge are delighted to offer and it's very high quality too! Free breakfast in a hotel should always be about convenience and value. If breakfast is an extra charge many guests may choose to run around the corner for a quick sandwich or even seek out a local café. Hotels charging upwards of £15 – £20 for breakfast as an option is not uncommon so it is no surprise that guests may choose an alternative venue or skip breakfast altogether. Grabbing a complimentary meal in the hotel is convenient for guests as it will always save time, money and energy.
(Source: Here's the Best Perk Hotels Can Offer Travellers, Business Insider, April 9, 2014)